Benefits of Buying a House During Diwali

03 November, 2023

4 mins read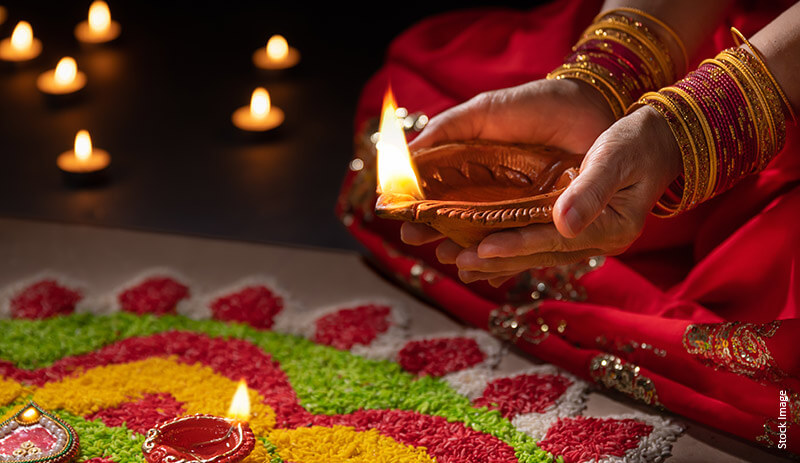 Diwali, the Festival of Lights, is celebrated with great fervour and enthusiasm in the entire India. People clean and decorate their houses, light Diyas (the traditional earthen lamps), and seek the blessings of Goddess Laxmi, believed to bring prosperity and good luck to her worshippers.
But the festival of Diwali is not just about lighting lamps, bursting firecrackers, exchanging gifts, and distributing delicious sweets. It is also considered an auspicious time to make significant life decisions, such as buying a house. Buying a new home during the festive season can bring more than good luck and prosperity. This article explores the benefits of buying a housing property during Diwali.
Top Benefits of Buying a House During Diwali
1. An Auspicious Time for New Beginnings
Diwali is typically observed as a three-day festival in various parts of India. It begins with Dhanteras on the thirteenth day of the Kartik month of the Hindu lunar calendar and culminates with the celebration of Diwali on Amavasya night.
According to Hindu mythology, the festival of Diwali is associated with the triumph of good over evil as Lord Shri Rama returned to Ayodhya after fourteen years of exile and after killing the demon, Ravana. It is also believed that Goddess Laxmi arose with a pot of gold coins on this day during Samudra Manthan (the churning of the ocean).
That is why Diwali is considered the most auspicious time for new beginnings, including buying a house or property. Doing so is believed to bring prosperity and protect the inhabitants from bad omens.
2. A Range of Festive Offers from Real Estate Developers
Builders and developers in India realise the increased demand for properties during Diwali and look to attract homebuyers and investors by providing exciting real estate offers and discounts. Their offers for Diwali may include reduced property prices, waiver of stamp duty, complementary parking spaces, lifetime club/gym membership, and zero-cost furnishing, among others.
Additionally, banks and other non-banking lending institutions provide pre-approved home loan offers to interested borrowers during the festive season. Such home loans come with favourable lending terms, including lower interest rates, paperless applications, zero processing fees, and extended repayment tenures.
One can avail of these festive offers and make their dream home more affordable. To know about the latest real estate offers for Diwali, one can check the websites of developers and lending institutions.
3. One Can Get a Good Bargain From the Seller
Diwali is also the best time for homebuyers looking to purchase a property on resale. It is because most sellers look to cash in on the opportunity to clear their unsold inventory. Whether it is the builder or a property owner, one can negotiate and get a good bargain by closing the deal during the festive season.
Additionally, after the COVID-induced slowdown, most real estate sellers have been waiting for the re-emergence of positivity in the market. Citing the homebuyers' renewed interest in housing properties during Diwali, they can try to liquidate their assets and recover costs. One can make use of the opportunity to buy their dream house at a reduced price.
4. Launch of New Projects Makes Homebuyers Spoilt for Choices
Like homebuyers, real estate builders or developers also consider Diwali as an auspicious occasion to launch their new projects. They realise the fact that people are keen to buy new properties during this time and look to make the most out of it. This results in an abundance of quality housing options becoming available in the market. As a homebuyer, one can make full use of the opportunity and select from a range of luxurious and affordable apartments as per their specific requirements.
5. Additional Tax Benefits and Government Initiatives
Various state governments in India announce additional tax benefits and incentives for those looking to buy a house during the festive season. These benefits may come in the form of home loan interest subsidy, increased tax deductions, etc. One can avail of these benefits to buy a house during Diwali and reduce their home ownership cost. It is advisable to consult a financial advisor or tax advisor to get a detailed idea of such benefits.
In Conclusion
Buying a house during Diwali is replete with benefits. Besides being an auspicious occasion, it allows homebuyers to avail of attractive real estate offers, get home loans at reduced interest rates, and choose from a range of newly launched housing projects. One can consider buying residences at Piramal Vaikunth in Thane. Sprawling across a vast expanse of 32 acres, the housing project offers super-premium 2 BHK and 3 BHK apartments amid lush green surroundings. One can also enjoy a gamut of ultra-modern amenities, including a mini cricket ground, Amphi Seating, a dedicated yoga zone, a multi-activity terrace, a swimming pool, and a Creche. Click here to take a 3D virtual tour of the project.
Disclaimer- This article is based on the information publicly available for general use as well as reference links mentioned herein. We do not claim any responsibility regarding the genuineness of the same. The information provided herein does not, and is not intended to, constitute legal advice; instead, it is for general informational purposes only. We expressly disclaim /disown any liability, which may arise due to any decision taken by any person/s basis the article hereof. Readers should obtain separate advice with respect to any particular information provided herein.
Sources :