Smart Home Automation In India – Guide To Intelligent Living

04 August, 2023

4 mins read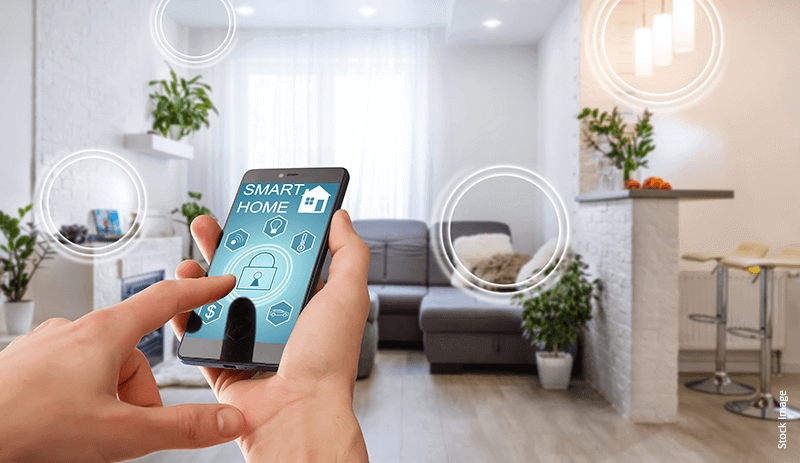 Smart home technology has taken the world for a ride. It has enhanced convenience, comfort, and control – the three Cs of wholesome living! One saves time, energy, and money with interconnected devices and automation features. Smart home automation also provides homeowners with better safety and peace of mind. According to a report, the India home automation market is on a trajectory of impressive growth, with projections suggesting that its value will soar to an impressive US$25.64 Billion by 2030, compared to its valuation of US$4.83 Billion in 2022. Smart home gadgets can bring one's imagination come alive, letting homeowners sit back, relax, and let their homes take charge. For those still unaware of the power of home automation, here are some simple yet boundless ways in which a home automation system can help people in the modern world.
Smart Locks and Alarms to Safeguard One's Sanctuary
Unfortunately, crime rates, including burglaries and break-ins, are on the rise in many parts of India. Smart security gadgets ensure that one's home is monitored round-the-clock. These systems use a network of sensors placed inside and outside the house. These alarms can immediately raise caution and send real-time alerts about break-ins or other unauthorised access to a home. At Piramal Vaikunth, the Smart IoT (Internet of Things) Lock is installed through the Digi Select Smart Home facility. This feature lets homeowners lock and unlock their homes through their smartphones, eliminating the fear of losing one's keys or them landing in the wrong person's hands. One can also add frequent visitors to a trusted list and enjoy better peace of mind.
Smart ACs that Put One in Charge of Their Home's Climate
Smart ACs enhance luxury and comfort like never before. With programmable schedules and intelligent temperature sensors, they adapt to one's preferences, creating the perfect oasis tailored for homeowners. There is no need to worry about constantly adjusting settings. These devices take into consideration temperature, humidity, and occupancy and provide optimal cooling based on the weather in the city and the number of people in the room. That's not all! These smart home gadgets come equipped with energy-saving modes that can reduce electricity bills while being mindful of the planet, helping homeowners control their carbon footprints. Smart ACs can also be synchronised with voice assistants and phones. One can turn on or switch off the device from voice assistants without having to access the remote. These air conditioners can also be operated from smartphones, even while outside the house premises, enabling one to control their home temperature from the car, office, or lift! It is like having a personal cooling genie at one's beck and call!
Create the Right Atmosphere with a Symphony of Smart Speakers, TVs, and Lighting
Smart home devices like speakers, TVs, and lighting complete the luxury home experience and set the mood for one's space. Equipped with voice assistants like Amazon Alexa, Google Assistant, or Apple Siri, smart speakers, smart devices create a centralised hub for controlling all home appliances, from entertainment to lighting. Smart TVs offer a hands-free and effortless control system to homeowners, improving one's viewing experience through voice commands. One can enjoy an engrossing entertainment experience without having to move so much as a finger. Smart lighting control through voice commands also plays a role in creating the ideal ambience for any mood. This Smart Lighting comes with auto switch on and off sensors, allowing absolute remote controls to owners. This smart home technology lets one adjust the lighting to their liking, create a cosy atmosphere for movie nights, and establish a seamless interplay between lighting and the visuals on screen.
To Sum It Up
Home automation using IoT has transcended the realm of the future and become a present-day reality. It has revolutionised the way homeowners experience security and peace of mind by enabling unparalleled protection for valuable assets such as electronic devices, jewellery, and other high-value items. It enables homeowners to create personalised and comfortable living environments. With all that said, Smart homes are set to become even more integrated and intuitive. Piramal Vaikunth, through its Digi Select Smart Homes, is at the forefront of this mission, providing impeccable smart home solutions tailored to modern-day living. Along with that, its strategic locations and an array of luxurious amenities, it continues to be one of the best offerings by Piramal Realty.
Click here for an online tour.
Disclaimer- This article is based on the information publicly available for general use as well as reference links mentioned herein. We do not claim any responsibility regarding the genuineness of the same. The information provided herein does not, and is not intended to, constitute legal advice; instead, it is for general informational purposes only. We expressly disclaim /disown any liability, which may arise due to any decision taken by any person/s basis the article hereof. Readers should obtain separate advice with respect to any particular information provided herein.
Sources :