Apartment Vs Plotted Development: Which One is a Better Investment Option?

31 July, 2023

4 mins read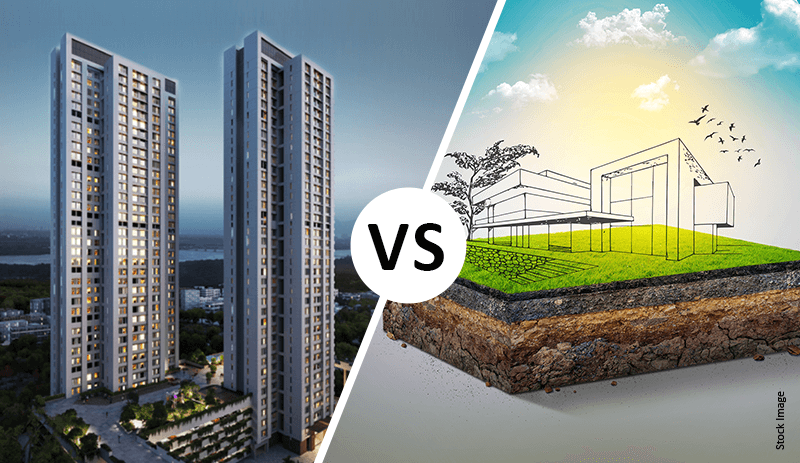 Investing in a property is a complex financial decision. As the investment required is enormous and is predominantly for the long term, it requires extensive research and analysis to decide on a suitable and valuable property. And one of the most common dilemmas is deciding whether to purchase a plot or a flat. Both options have exclusive features that make them good investment options. Therefore, understanding the factors and differences between plot and flat is vital to making the right decisions. Here is a detail about the various considerations that help individuals choose between buying a plot vs a flat.
Factors To Consider
Value Appreciation

Value appreciation is the first consideration when wondering — plot or flat, which is a better investment. The property value for both flats and plots will appreciate over time-based on the locality and the development, such as metro lines, road transport, etc. Since growth and development can bring more people into the area, increased demand and property value can propel rental yields in the case of investment in flats. Furthermore, rapid urbanisation will reduce the availability of land, leading to scarcity and increasing the demand appreciating the property value. The urbanisation factor also works in favour of plots and their value appreciation. While flats deteriorate with time, this is not a risk with investments in plots.

Effort

As flats are readily available and real estate developers offer different options, investors can compare and choose them. But on the other hand, the effort required to construct a building on a piece of land is extremely high, considering the collection of raw materials to construct until the end.

Flexibility

Flexibility is a significant plot and flat difference when it comes to investing. While purchasing a flat, individuals may not have the option to modify the property by expanding its area or changing its layout. It is restricted to the design of the real estate property developer. On the other hand, plots offer higher flexibility in terms of construction. Individuals can use it to construct, expand, or renovate the building in a way they prefer at any point in time.

Finance options

Flats have better financing options because the real estate developers will have a good network of banking institutions that can offer different options to choose from based on affordability. Loan options for investment in plots are comparatively less and require tedious documentation, making the investment difficult without adequate funds.

Regular income

Regular income is another important factor that can help decide which is a better investment — plot or flat. When individuals purchase a flat, which is ready-made and can be occupied immediately, it will start fetching a regular income as soon as the investment is made, and the property is let out. On the other hand, a plot will start providing returns only when the construction is complete and rented out. However, if constructed and put on rent, it can be customised and rented for various purposes leading to increased returns.

Tax benefits

One may wonder - Is buying a flat a good investment? Looking at the question with tax benefits in mind can offer an interesting answer. In case someone avails of a home loan, they can help qualify for the tax deduction benefits on the interest paid and on the principal repayment amount. The calculation is based on the prevailing Income Tax laws. On the contrary, for a plot, the tax deduction will be applicable only after the construction is complete.
Plot vs Flat: At A Glance
| Factor | Plot | Flat |
| --- | --- | --- |
| Value appreciation | Better valued and appreciate faster due to limited supply | Value appreciates based on the construction, locality, and development |
| Flexibility | Better flexibility in construction | Restricted flexibility in renovation |
| Finance Options | Fewer options | More options |
| Regular Income | Available after the construction is complete and rented out | Immediate income if rented out |
| Tax Benefits | Available after construction on the plot | Immediate tax benefits applicable |
Conclusion
Flats and plots have their exclusive pros and cons. The choice of investment should be based on the main difference between flats and plots, as well as affordability, and preferences. Investments in flats offer restricted flexibility, better financing options, immediate tax benefits and an increase in value with developments in the locality. And investments in plots offer comparatively better flexibility, limited financing options and better value appreciation in the long term. With all that said, investing in premium ready-to-move-in properties in a developed locality has a much higher chance of value appreciation than plots — more so if the investor chooses properties like Piramal Vaikunth, which is magnificently raised to offer luxury living spaces with premium finishes and wide-ranging amenities.
Disclaimer- This article is based on the information publicly available for general use as well as reference links mentioned herein. We do not claim any responsibility regarding the genuineness of the same. The information provided herein does not, and is not intended to, constitute legal advice; instead, it is for general informational purposes only. We expressly disclaim /disown any liability, which may arise due to any decision taken by any person/s basis the article hereof. Readers should obtain separate advice with respect to any particular information provided herein.
Sources :