Borivali Thane Underground Tunnel

29 August, 2023

4 mins read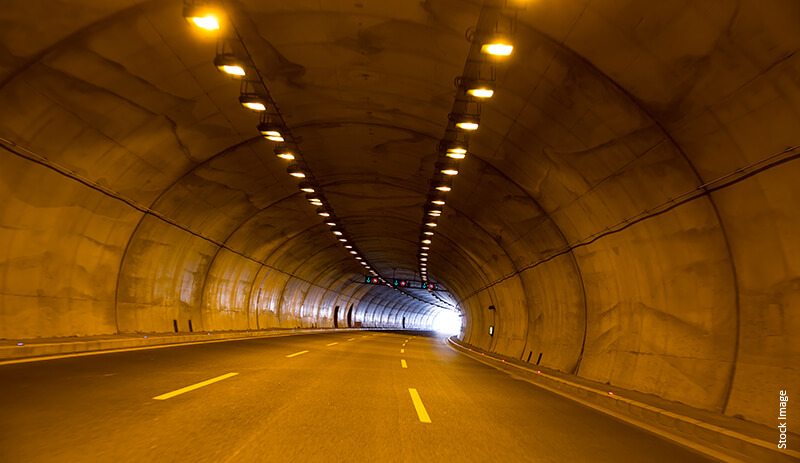 The Thane-Borivali tunnel is set to become the longest tunnel in the state of Maharashtra. This remarkable project involves a connection that will run beneath the iconic Sanjay Gandhi National Park, making it among the most ambitious underground projects in the state.
Keep reading to discover more details about the Thane-Borivali tunnel status.
Thane-Borivali Tunnel Current Status: Key Highlights
Purpose of the Thane-Borivali Tunnel
The Thane-Borivali tunnel project is one part of the Goregaon Mulund Link Road (GMLR) project, which aims to achieve an east-west corridor for smooth traffic movement, connecting Mulund in the eastern suburbs to Goregaon in the western suburbs. There is no direct connectivity between these areas, and commuters must take a detour via Ghodbunder Road in Thane or Powai.
It takes over an hour to travel between the western suburb of Borivali and the eastern suburb of Thane in the Mumbai metropolitan region (MMR). However, once the 11.84 km-long road project is constructed beneath the National Park, the travel time will be reduced to approximately 15 minutes, as per the Borivali-Thane Tunnel map.
Thane to Borivali Tunnel Project Map
The Borivali-Thane Underground Tunnel will run beneath the Sanjay Gandhi National Park (SGNP), the only national park in the world within a metropolitan area. The tunnel will be excavated 23 metres under the surface. The connectivity will begin at Magathane's Ekta Nagar in Borivali and emerge near Tikujiniwadi at Manpada in Thane.
Construction began on two underpasses of three lanes each, connecting Tikujiniwadi to Borivali. The plan includes the provision of cross tunnels at regular intervals of 300 metres, allowing vehicles to achieve a maximum speed of 80 kilometres per hour.
Features of the Thane to Borivali Tunnel
The tunnel will feature advanced ventilation, lighting systems, and electronic surveillance.
Additionally, a linear heat detection system is included in the plan.
SOS emergency boxes will be installed within 500 metres, allowing commuters to seek help in case of an emergency.
The project will include a drainage system, smoke detectors, and jet fans in its amenities.
Thane-Borivali Tunnel Latest News
In December 2022, MMRDA invited tenders for the project's civil construction, consisting of two civil packages. Package 1 of MMRDA's scope involves designing and constructing a twin-tube tunnel on the Borivali side, spanning a length of 5.75 km. Package 2 of MMRDA's scope entails designing and constructing a twin-tube tunnel on the Thane side, covering a length of 6.09 km.
Two companies, Megha Engineering & Infrastructures Ltd. (MEIL) and Larsen & Toubro (L&T), were declared the lowest bidders for separate packages on 25th April 2023. However, L&T's technical bid for Package 1 was disqualified due to the need for additional supporting documents for qualification. Consequently, they requested MMRDA to consider them only for Package 2's tender.
According to a source, the issuance of the Letter of Award (LoA) is still pending. After identifying the lowest bidder, the Mumbai Metropolitan Region Development Authority (MMRDA) typically follows an approval process before officially awarding the project.
Impact of Thane-Borivali Tunnel Project on Real Estate
The Thane-Borivali tunnel project will start as part of the Goregaon Mulund Link Road (GMLR) project. The objective of the GMLR project is to create an east-west corridor for traffic movement — connecting Goregaon in the west with Mulund in the east.
Currently, the only route connecting Goregaon and Mulund is through a detour from Ghodbunder Road in Thane or through Powai. During peak hours, both these roads remain packed with traffic.
So, when the Thane-Borivali Twin Tunnel project is functional, it will reduce the commute time between Goregaon and Mulund to 15 mins from 1-2 hours. And it is expected to significantly impact the real estate of these suburban regions.
Conclusion
Thane-Borivali Twin Tunnel is set to revolutionise the way people travel in Mumbai, making dream homes even more accessible from both eastern and western suburbs. With such pipeline development, it is time to invest in the prime properties in these areas. And what is better than Piramal Vaikunth?
It is a premier project that presents a majestic selection of houses in the lush green habitat of Thane. Piramal Vaikunth is constructed in a prime location in the city that already has great connectivity and is all set to receive better infrastructural developments, which will surely enhance the ease of daily living in this area.
Disclaimer- This article is based on the information publicly available for general use as well as reference links mentioned herein. We do not claim any responsibility regarding the genuineness of the same. The information provided herein does not, and is not intended to, constitute legal advice; instead, it is for general informational purposes only. We expressly disclaim /disown any liability, which may arise due to any decision taken by any person/s basis the article hereof. Readers should obtain separate advice with respect to any particular information provided herein.
Sources :