Benefits of Buying a Fully Furnished Flat

19 October, 2023

4 mins read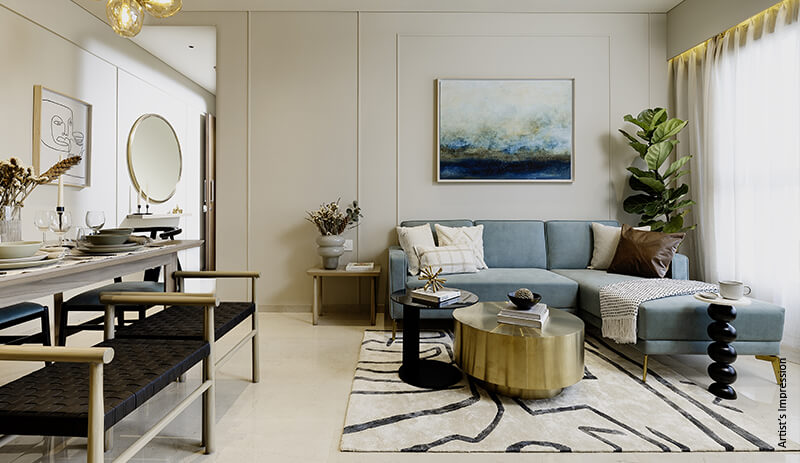 An individual would have to consider many factors when purchasing a home. In addition to the price, it's essential to consider the location, condition, size, nearby schools and workplaces, and surrounding people and neighbourhoods.
There is one more item on some people's checklist: Does the place already come furnished? Some home buyers and tenants prefer to move into a fully or semi-furnished home because a fully furnished flat provides the best amenities.
Read on to learn more about the advantages of buying fully furnished houses.
What is a Fully Furnished Flat?
"Fully furnished apartments" refer to flats equipped with all the furnishings and finishes, such as modular kitchens, furnished living and dining areas, and bedrooms equipped with wardrobes.
These apartments are designed so that residents can enjoy a full-service experience without worrying about furniture costs or the hassles of buying them.
Benefits Of Buying a Fully Furnished Apartments
Below are the top reasons why one should choose to buy a fully furnished apartment, either 1BHK, 2BHK or fully furnished studio apartment.
Time-saving and Cost-effective

Savings are the biggest motivation for people to choose a fully furnished home. Buying a property like this is cheaper than buying the same property plus all new furniture, appliances, and supplies. Also, one can complete the purchasing process and move into a new home much quicker than traditional methods.

When one moves to a new location for work and needs to start immediately, they can transport their essentials like clothing, documents, and other personal belongings and settle in. One does not need to arrive several weeks or months ahead to set up the premises.

Additionally, this is an excellent benefit for homebuyers moving in with little children. They can spend some time to help the kids settle down in a new environment. As a result of the developer's bulk buying capacity, one can get the best possible price for a 1BHK fully furnished or 2BHK fully furnished flat. Discounts and special promotions can help one save even more money!
Avoid Buying Furniture and Appliance

Shopping may be enjoyable, but buying furniture, appliances, decor, and all necessary supplies can take a long time. One must plan the overall house look and purchase the pieces to tie it together.

Also, one has to make sure that everything is delivered promptly. If the delivery schedule goes differently than planned, one must move in without a bed or fridge for a couple of weeks. It will also be necessary to set up everything throughout the new home. When one moves into a well-furnished flat, everything they need will be right there.
Avoid Packing and Moving from One Place to Another

Buying an unfurnished place to live will require ordering new furniture while also packing up and moving the possessions. Sorting and packing the things, cleaning up, and arranging transport can be time-consuming and exhaustive.

Transporting things to another state, city, or abroad makes everything doubly challenging. If one moves into a fully furnished space, one won't have to worry about logistics issues and associated headaches.
Materials and Finishes of High Quality

The quality and durability of materials used in fully furnished rooms can be challenging to assess sometimes. It is, however, essential to realise that professional and skilled developers understand the technicalities in-depth and nuanced to guarantee the best outcomes.
A Lavish Lifestyle and Luxury Awaits

It is true that when one invests in a fully-furnished home, one gets access to all the excellent facilities that make their life easier by making their home more efficient. Professional and skilled developers always consider this aspect part of the house design process.

The pinnacle of luxury is a fully furnished home. When one moves into their new home, they can start enjoying it immediately. With everything handled, a new homeowner can relax and enjoy their new space.
Own a Fully Furnished Apartment
Consider purchasing a fully furnished apartment when planning to buy a new home shortly. A property of this type provides convenience, comfort, and a touch of luxury that can make one's lifestyle genuinely fulfilling.
The Fabulously Furnished flats at Piramal Vaikunth include high-quality furnishings and amenities like multi-purpose hall, swimming pool, gymnasium, and indoor games room. As one of Thane's most renowned developments, Piramal Vaikunth offers luxury apartments for those looking to enjoy the best urban and natural living.
Disclaimer- This article is based on the information publicly available for general use as well as reference links mentioned herein. We do not claim any responsibility regarding the genuineness of the same. The information provided herein does not, and is not intended to, constitute legal advice; instead, it is for general informational purposes only. We expressly disclaim /disown any liability, which may arise due to any decision taken by any person/s basis the article hereof. Readers should obtain separate advice with respect to any particular information provided herein.
Sources :