Mumbai Metro Line 5: Orange Line Metro Route Maps, Fares, Status, Impact on Real Estate

31 July, 2023

4 mins read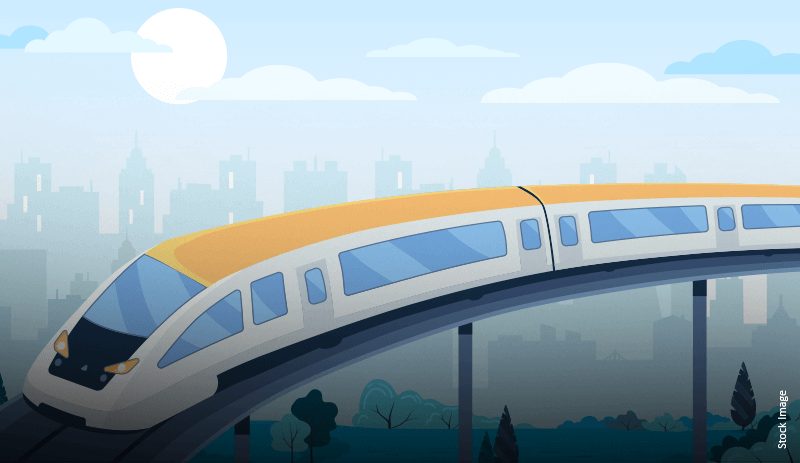 The Mumbai Metro Line 5, popularly called the Orange Line, is the rapid transit line under construction that connects the Thane and Bhiwandi suburbs with Mumbai city. The Orange Line Metro is a significant component of the broader Mumbai Metro Project.
It is a transit system designed to give the city inhabitants a better, more effective, and a convenient mode of transport. Moreover, Metro Line 5 will improve rail-based access and transport for educational institutions, tourism, and local businesses.
Here is a detail about the Orange Line Metro route, cost, status, impact on real estate, and more!
Mumbai Metro Line 5: Key Details
| | |
| --- | --- |
| Parameters | Details |
| Project | Mumbai Metro Line 5/ Orange Line |
| Owner | Mumbai Metropolitan Region Development Authority (MMRDA) |
| Distance | 24.9 km |
| Estimated Cost | ₹8,416 crores |
| Number of stations | 17 |
| Elevated/ Underground | Fully Elevated |
| Operator and Maintenance | Maha Mumbai Metro Operations Corporation Limited (MMMOCL) |
| Signal | Communication-Based Train Control (CBTC) |
| Ridership 2031 | Daily Ridership: 3.025 Lakhs |
| Capacity | 1756 persons |
| Average speed | 34 kmph |
| Top Speed | 80 kmph |
| Status | Under Construction |
What is the Mumbai Metro Line 5 Project?
The Mumbai Metro Line 5, famously called the Orange Line, is a 24.90 km long elevated rapid transit line that connects Mumbai City with the suburbs of Kalyan, Bhiwandi, and Thane. It is developed by the Mumbai Metropolitan Region Development Authority (MMRDA).
The Thane Bhiwandi Kalyan Metro will be built in two Phases and include 17 stops. Furthermore, the Metro project will connect the existing route, Metro Line 4, and the projected Metro Line 12. Metro Line 4 refers to the connectivity between Wadala and Kasarvadavalli, and Metro Line 12, also called the Dombivli Metro, is developed between Kalyan and Taloja.
The Orange Line Metro will be highly beneficial for residents in Bhiwandi, Thane, and Kalyan, as the Thane Kalyan Metro route will reduce travel time by 50 - 75%. As a result, they may not have to rely on the local buses or trains for their daily commute.
Phases of Mumbai Metro Line 5 Construction
The construction of the Thane Kalyan Metro is being done in two Phases.
Phase 1: Links Thane with Bhiwandi and contains a creek bridge.
Phase 2: Links Bhiwandi Metro with Kalyan
Thane Bhiwandi Kalyan Metro Route Map
Metro Line 5 starts at Kapurbawdi Junction in Thane and ends at Kalyan APMC Station.
Orange Line Metro Stations
| | |
| --- | --- |
| Stations Between Thane - Bhiwandi | Stations Between Bhiwandi - Kalyan |
| Kapurbawdi Station | Gopal Nagar Station |
| Balkum Naka Station | Temghar Station |
| Kasheli Station | Rajnauli Station |
| Kalher Station | Govegaon Station |
| Purna Station | Kongaon Station |
| Anjur Phata Station | Lal Chawki Station |
| Dhamankar Naka Station | Kalyan Metro Station |
| Bhiwandi Metro Station | Kalyan APMC Station |
Mumbai Metro Line 5 Status
The Thane Kalyan Metro project is anticipated to be completed by 2025. In Jan 2023, the Thane Kalyan Metro project reached an important milestone. The 550 m viaduct's final span was fixed over Kasheli Creek. The Kasheli Creek Bridge has 15 segments and 13 spans. Afcons, the Mumbai-based infrastructure company, took on this challenging task. They used launching girders to fix each bridge, which measures 42.23 m, and completed it in 123 days.
Benefits of The Mumbai Metro Line 5 Project
Enhances Mumbai City's transportation system
Eases traffic congestion
Increases the accessibility
Reduces travel time
Impact on Real Estate
The increased accessibility of the Thane Kalyan Metro will have a favourable impact on the Real Estate market in Mumbai. It will encourage the creation of new projects, bring in new investors, and increase the value of properties to a great extent. A better transit system with reduced travel time will be a boon for the residents in the locality as it makes the daily commute convenient and comfortable.
Conclusion
The Mumbai Metro Line 5, popularly called the Orange Line, will be an eminent development in Mumbai City's transportation system. It will connect Mumbai City with Thane, Bhiwandi, and Kalyan suburbs. The project is under construction and is expected to be completed by 2025.
Upon completion, the Orange Line will be the first Metro viaduct in Mumbai constructed over a water body. It will significantly impact the real estate sector as it will ease traffic, increase accessibility, and reduce travel time. With such developments underway, it is an ideal time for homebuyers to invest in premium properties like Piramal Vaikunth. Established in Thane, Piramal Vaikunth offers luxury community living spaces to experience a combination of nature and urban living at its best.
Disclaimer- This article is based on the information publicly available for general use as well as reference links mentioned herein. We do not claim any responsibility regarding the genuineness of the same. The information provided herein does not, and is not intended to, constitute legal advice; instead, it is for general informational purposes only. We expressly disclaim /disown any liability, which may arise due to any decision taken by any person/s basis the article hereof. Readers should obtain separate advice with respect to any particular information provided herein.
Sources :