Piramal Vaikunth : Experience Natures Freshness Amidst the Hustle-Bustle of Mumbai City

02 December, 2021

4 mins read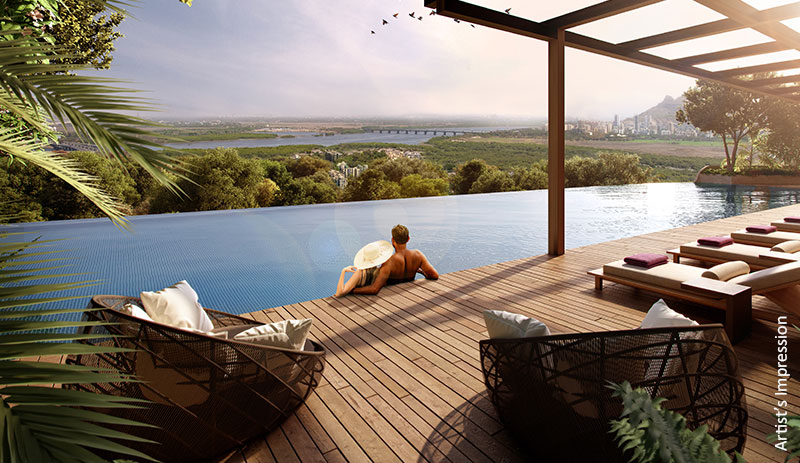 In a city that is always on the go, everyone needs a moment of peace and calm. Thane is one of the busiest hotspots near Mumbai, which has earned a reputation for having affordable residential properties around Mumbai. So, if you are looking for a property in Thane, an efficiently developed social infrastructure is already at your disposal.
At Piramal Vaikunth, we offer you the ideal haven with the best of the city life, modern amenities, the serene beauty of nature and much more, along with a range of luxurious apartments to choose from!
Your Space, Your Privacy
A life of luxury is what you deserve at Piramal Vaikunth when you buy a flat in Thane. Spread over almost 32 acres, our select apartments feature lovely floor-to-ceiling windows that allow you to drink in the charming views of the city's skyline, the verdant Yeoor Hills and the Thane Creek. Likewise, you can also choose from some of the flats that let you enjoy a 3-side view of the outside world. So be it at sunrise or at sunset, your eyes will always have the beautiful colours of nature at their beck and call.
The double-glazed windows in the homes let you enjoy daylight while cutting out the unnecessary noise and heat of the city pollution. And if you love spending your evenings on your favourite armchair, some of our apartments also offer a balcony for your convenience!
Piramal Vaikunth comprises four organised clusters featuring opulent towers of their own, with about 60,000 sq. ft of amenity spaces, 40% open spaces and its very own ISKCON Temple complex. With so much to offer, there is something for everyone – you can either enjoy some active time at the mini-cricket ground, multi-activity terrace, swimming pool, gymnasium, etc., or discover inner peace at the elegantly designed ISKCON temple or the yoga/meditation terrace.
Speaking about the neighbourhood, you have the convenience of educational institutions, hospitals, natural spaces like lakes and waterfronts, entertainment centres like malls and amusement parks and much more, well within your reach!
Our Contribution to the Environment
If you buy a flat in Thane with the expectation of experiencing nature's touch, Piramal Vaikunth is here to offer you much more. Not only do we understand the importance of thoughtfully designed homes that let you enjoy natural space and sunlight, but we also take environment-friendly steps to encourage sustainable living.
The water requirement for all common areas will be largely fulfilled through rainwater harvesting, ensuring that there is ample water supply for all.
To enable better waste management, the planned Organic Waste Converter will utilise all the wet waste to provide natural fertilisers for the trees at the property.
There will be a sewage treatment plant to process soil waste to reduce the demand and use of fresh water for gardening and flushing purposes.
At Piramal Vaikunth, our goal is to ensure that your property in Thane is more than just your home; it should be where you experience life at its best, share the community with like-minded people and feel closer to nature within the safety and security of our luxury residential project.
And, what's more! All Piramal Realty properties are now approved by the epitome of trust and dependability, the Wall of Indian Cricket, Mr Rahul Dravid. With every Piramal Realty property in Mumbai, feel #AtHomeWithDravid and enjoy a truly luxurious living experience.