Importance of Location When Buying a House in Thane

19 September, 2021

4 mins read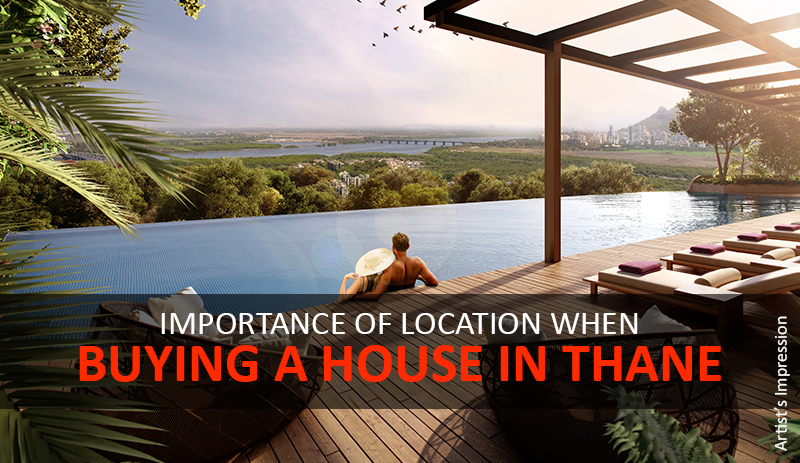 Did you know that in the first two quarters of the Financial Year 2020-21, millennials constituted more than 50 per cent of the home buyers in Maharashtra? This indicates a huge shift in the demographics of real estate sales. Related trends have also revealed that these buyers lay significant emphasis on location as a critical factor in the selection of a house to purchase.
While you can change other aspects of your home, such as its furniture, ambience, theme, flooring, etc., you cannot change its location. This is why a property's location is one of the prime factors to consider while buying a house. The area where your home is situated can impact many aspects of your life, right from your day-to-day schedule to your future net worth.
If you are looking for a home in Thane, location becomes the determining point of the views and amenities you get.
With its thoughtful design and diverse facilities, Piramal Vaikunth offers you a home that exudes elegance, class, and modern functionality. If you are looking to buy a home in Thane, Piramal Vaikunth can provide you with safety, comfort, luxury, and peace whilst ensuring that you have quick access to important infrastructure such as educational institutions, hospitals, and the road and rail networks.
Equipped with amenities such as an ATM, a convenience store, a creche, and a doctor's room, Piramal Vaikunth has been designed keeping in mind the various requirements of modern city living. With an in-house squash court, basketball and badminton court, and a mini cricket ground, you can indulge in a sport of your choice after work or on the weekends. For fitness enthusiasts, there is a cycling track and a yoga and meditation zone along with a well-equipped gymnasium.
If you are still not convinced why location is an important factor to consider when buying a house, keep reading!
It determines the price of your house:

The price of a property largely depends on its location. Purchasing a house in the heart of the city can cost you a lot more compared to buying a house in the outskirts. Similarly, residential properties closer to schools, colleges, office complexes, etc. are costlier than those situated in secluded areas. Make sure to pay attention to these aspects before picking a house. 

The location of your house determines your access to important infrastructure and your travel time to various places, including work, school, etc. If you are looking to buy a home in Thane, you must ensure that the location has proximity to places of importance in your daily life. 

It determines your future net worth:

Real estate rates can escalate over time. If you buy a house in a locality whose value appreciates over time, you would be able to earn a substantial profit. However, if you purchase a house whose value does not appreciate in tune with inflation, or worse it depreciates, you will end up bearing a loss. 

A real estate investment is one of the biggest assets you can own. It is also an asset that is generally passed down to future generations. So, make sure that you pick a place that is likely to appreciate over the years. For instance, whilst considering the purchase of a property in Thane, it is important to study the trends of the property prices in the area for the past five to ten years. 

It can offer you comfort:

Picking a house close to your office can help you save time and money otherwise spent on commuting. Similarly, children can benefit if there are schools and colleges nearby. Close proximity to schools and colleges also ensures the child's safety. In addition to this, living in an area that offers facilities like entertainment, markets, restaurants, healthcare, etc. can offer you peace of mind and simplify your day-to-day needs.

Hence you must look for an area that offers essential amenities and is well connected to other parts of the city. Thane, for instance, is one of the fastest growing real estate markets in the country. With the development of many residential projects in the area in recent years, buying a house in Thane has become a more viable option than ever before. 

It can offer you safety:

The neighbourhood you pick also determines the degree of your safety. Buying a house in a gated society in a plush area can be a lot more secure than a stand-alone house in a non-gated community. 

When you purchase a house, make sure to check the nearby neighbourhood, amenities like security systems, proximity to the police station, etc. Prioritise your safety and that of your loved ones over the cost of the house and never invest in an area that lacks basic security measures. 
To sum it up
If you are looking for a good residential locality, nothing can be better than a house in Thane. A bustling area with many schools, colleges, and offices, Thane is home to some of the most magnificent buildings of the Mumbai skyline. If you are interested in buying a property in Thane, Piramal Vaikunth can be an ideal choice.