Piramal Vaikunth Advocates Sustainable Living in Thane

22 March, 2021

4 mins read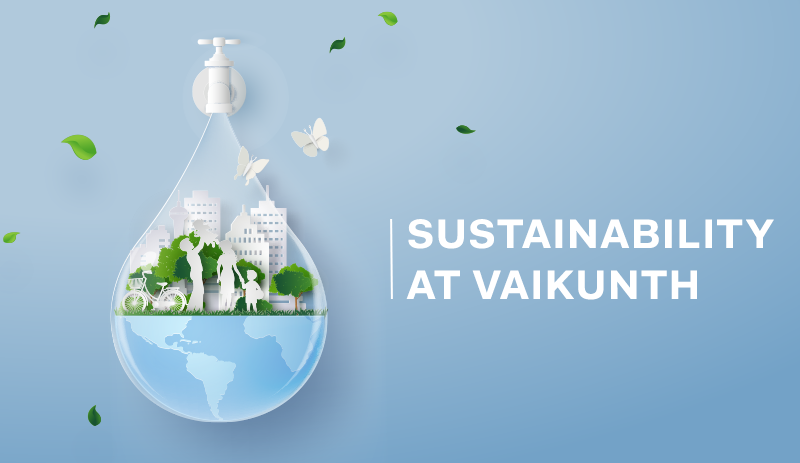 Sustainability has become an essential aspect of our lives. Companies, governments, and citizens are cognizant of the concept and ready to take positive steps to ensure minimum impact on the environment. Being one of the largest contributors towards the carbon footprint, the real estate industry plays an essential role in the development of a sustainable world because of its use of materials, land, and the lives it impacts. Sustainable real estate development is a practice of incorporating eco-friendly materials, techniques, and technologies into the construction process. Instead of using materials that increase carbon footprint, sustainable real estate development aims to significantly reduce global impact and conserve natural resources, from the materials used for daily operations.
To enrich the lives of homebuyers, Piramal Realty has already set benchmarks in Safety, Quality, Customer-centricity, and Architectural Design. Being a conscious and responsible brand; Piramal Realty believes in offering homebuyers a sustainable environment by adopting various methods to ensure the highest standards of safety and environmental compliance are met. Piramal Vaikunth, the 32 acres integrated township by Piramal Realty has been developed on the concept of biophilia and offers efficiently designed 1,2 and 3 bhk flats in Thane.
The project has a centrally planned recreation ground and offers open spaces with parks, plazas, and sports zones along with Thane's first ISKCON temple Complex. These spaces ensure community living which will help in enhancing the health and wellbeing of its residents. The project has also planned rainwater harvesting systems in the form of tanks for optimum usage of rainwater. Common areas have been outlined for illumination lights that run on solar energy.
The project will have an organic waste converter to enable conversion of wet waste from a household into usable manure. In addition, independent E-waste segregation will be adopted along with segregation of dry and wet waste at source by the end-user. The provision of a Sewage Treatment Plant shall help in treating waste and converting it to treated water, which in turn shall be used for landscape gardening & flushing. This would help in reducing the overall demand for freshwater, ensuring an additional step towards sustainable practices for maintaining ecological balance.
Apart from being sustainable, Piramal Vaikunth offers world-class amenities to cater to a varied set of homebuyers. Being centrally located, the project ensures maximum convenience to its homebuyers with easy connectivity to important business districts in Mumbai. Homebuyers can enjoy the convenience of shopping and dining options, schools, and hospitals while being surrounded by hills, lakes, and nature reserves.
So, what are you waiting for – a premium project with state-of-the-art amenities coupled with sustainable living, Piramal Vaikunth is the place to own your dream home!
Contact Information and Rera Details:
Maha RERA registration no Cluster 1: P51700003535, Cluster 2: P51700003793, Cluster 3 T1: P51700024023, Cluster 3 Tower 2: P51700024580, Cluster 4: P51700003283, Cluster 4(a): P51700005256.Maha RERA website: https://maharera.mahaonline.gov.in | Project is funded by IndusInd Bank Ltd. | *T&C apply.