Thane Creek - Flamingo Sanctuary, Boat Safari & More

12 May, 2023

4 mins read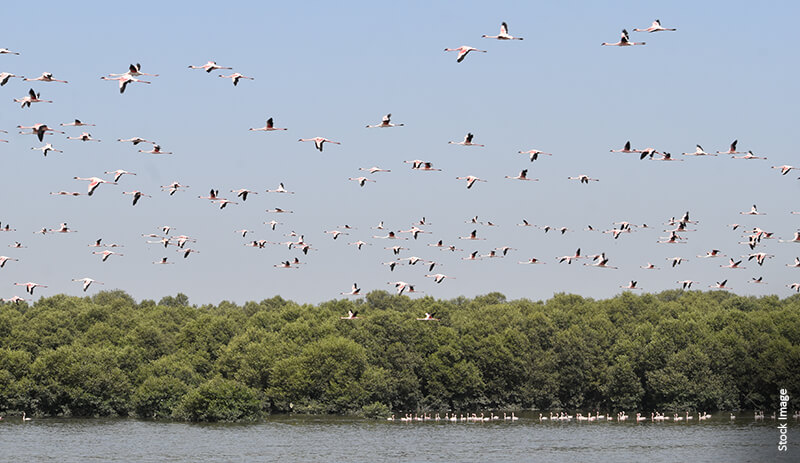 Bird watching is a well-known hobby for many, irrespective of their age. It is fun, relaxing, and also educational, especially if you are interested in ornithology. People of all ages, abilities and walks of life can enjoy the activity over the weekend or when they have some spare time in the mornings. So, if you're in Mumbai and want to enjoy some fresh air while learning more about nature, head out to Thane Creek Flamingo Sanctuary.
The flamingo sanctuary is a paradise for birdwatchers and is still a sparsely populated hub for observing birds. You can tour the creek on a boat ride while spotting many Lesser and Greater flamingos. You can also spot other birds like the Sandpiper, Egrets, Black-headed Ibis, Grey Heron, Plover, Whimbrel, Northern Shoveler, etc.
Thane Creek Flamingo Sanctuary is one of the unexplored places in Maharashtra. Its location is exotic, with picturesque surroundings. It consists of a dense mangrove forest with over a thousand birds. However, it is prominently known for the migratory flamingos that gather in spring every year.
The History
Thane Creek is the second Marine Sanctuary in Maharashtra. In August 2015, the Maharashtra Government declared it an 'Important Bird Area and Flamingo Sanctuary.' Since 1994, people have spotted various species of migratory, including Greater Flamingo, Lesser Flamingo, Spot-billed Duck, Painted Stork, and Pied Avocet.
The location of the flamingo sanctuary is on the western bank of Thane Creek. From the Airoli Bridge, the sanctuary looks breathtakingly beautiful. You can see a sky full of pink feathers in the attractive setting of the mangrove forest.
When should one visit?
Flamingos fly to the sanctuary in spring. Therefore, you should plan your visit between late February and the end of May. On your visit during this time, you can see many species of migratory birds with their numerous feathers filling the sky.
Timings and entry fee
The sanctuary remains open from Monday to Saturday for visitors. Monday to Friday, the timings are 10:00 am to 5:00 pm. On Saturday, you can visit from 10:00 am to 4:00 pm. The sanctuary does not open on Sunday.
The entry fee for adults is ₹50 per head. For children, the entry fee is ₹25 per head. There is no extra fee for videography or photography. You can make your Thane Creek Flamingo Sanctuary booking to ensure that you do not have any problems entering the sanctuary.
How to reach?
The Thane Railway Station is the closest railway station to the flamingo sanctuary. The driving time between the sanctuary and the railway station is half an hour. Public buses are also an option. But, if you want to take the boat safari, go to the Coastal and Marine Biodiversity centre for a guided tour. The Coastal and Marine Biodiversity centre is 9.5 kilometres away from Thane Railway Station. Visitors can book a local bus or a taxi, depending on their preference.
Tour options
There are two routes to explore the sanctuary. The first is from the Bhandup pumping station side, while the second is boating from the Airoli side. You can make your Thane Creek Flamingo Sanctuary booking for either trip as per your choice.
Conclusion
Bird watching, or the observation of live birds in their natural habitat, is a popular recreational activity. After a week of being cooped up in the office, you can plan this activity over the weekend with your friends or family. Visiting Kolshet Creek and the flamingo bird sanctuary on the same day can make your outing even more memorable. Piramal Vaikunth is strategically located so that it overlooks Thane Creek and Yeoor Hills. This luxury residential project by Piramal Realty gives homeowners the benefit and comfort of beautifully designed residences, picturesque surroundings, and nearby attractions.
Frequently asked questions
Where can I spot flamingos in India?

The popular destinations to spot flamingos in India are Thol Lake, Gujarat; Thane Creek Flamingo Sanctuary, Thane; Sewri Mudflats, Mumbai; Khijadiya Bird Sanctuary, Gujarat; Flamingo City, Gujarat; Chilka Lake, Odisha; Nal Sarovar Bird Sanctuary, Gujarat; Bhigwan, Maharashtra.

When can one see flamingos in Thane Creek Flamingo Sanctuary?

Flamingos come to Thane Creek every year to feed on the multiplying blue-green algae. Before flying to their breeding grounds, they stay here for six to seven months. You can spot flamingos at the Thane Creek Flamingo Sanctuary between October and May. They are present in tens of thousands.

What is the nearest train station to Thane Creek Flamingo Sanctuary?

The closest train station to Thane Creek Flamingo Sanctuary is Airoli Railway Station. The sanctuary is located 3.5 kilometres (2 miles) away from here and can be reached there by tuk-tuk.

What is the entry fee for Flamingo Sanctuary Mumbai?

For adults, Thane Creek Flamingo Sanctuary tickets cost INR 50, and for children, they cost INR 25.

How much does it cost for a Thane Creek Flamingo Sanctuary boat booking?

A boat trip at Thane Creek Flamingo Sanctuary booking costs INR 330 on weekdays and INR 440 on weekends and government holidays.
Disclaimer: This article is based on the information publicly available for general use. We do not claim any responsibility regarding the genuineness of the same. The information provided herein does not, and is not intended to, constitute legal advice; instead, it is for general informational purposes only. We expressly disclaim any liability, which may arise due to any decision taken by any person/s basis the article hereof. Readers should obtain separate advice with respect to any particular information provided herein.