Best Trekking Places In And Around Thane

03 November, 2023

4 mins read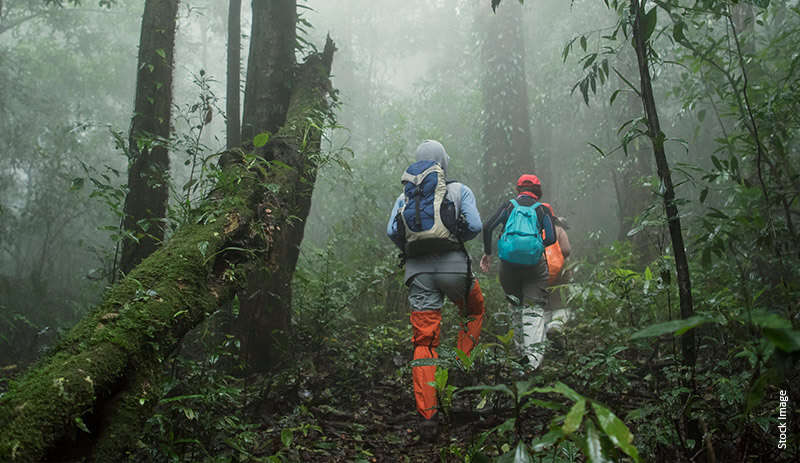 Trekking is a great physical exercise that not only keeps one body fit but also keeps the mind fresh. Many people go out for a trek once or twice a year because not every place offers scenic beauty, which is a crucial prerequisite for an enjoyable trek unless one lives in such a place. Thane is one such place that has great trekking trails.
Thane is an amalgamation of city perks with nature's bliss, which is why many luxurious residential projects have flourished in this area. Besides hills, forests, rivers, and lakes, Thane boasts a wide range of natural beauty, making trekking in Thane a pleasant experience. In addition to offering an exciting adventure, treks near Thane allow one to explore new trails and challenge themselves.
So, keep reading to know more about the best trekking places near Thane and a luxury residential address that offers homes in the lap of nature.
Best Trekking Places in Thane
The trails near Thane are accessible to trekkers regardless of their skill level. Listed below are some of the best trekking in Thane.
Yeoor Hills Trekking

Enjoy this 6.3-kilometre loop trail near Thane. It is generally a moderately challenging route. Since this area is famous for bird watching and hiking, one will likely encounter other people while exploring. The Yeoor Hills lie in the Sanjay Gandhi National Park in Thane. A verdant green environment, cool climates, and the song of birds and jungles welcome one to this location. There is a trailhead at the Yeoor Bus Stop for this trail.

Vihar Lake Loop

Take a hike on this 11.6-kilometre loop near Thane. It takes an average of 2 hours and 52 minutes to complete this trek route. One will likely encounter few people while exploring this trail, so it's ideal for hiking, mountain biking, and road biking. There is a good path on the track to ride a road or mountain bike. One can find a beautiful lake at the end of the trail near Mumbai. This trek has some stunning views with a lush green area, beautiful sunsets, and sunrises.

Patonepada — Mundi Top

Mundi Top, a mountain peak in the Patonepada region, offers breathtaking scenery and a challenging adventure hike. Besides lush forests and rocky terrain, Mundi Top's summit trail winds steeply up from Patonepada. The climb through forestry areas provides a refreshing and relaxed atmosphere as the hike begins. The terrain becomes rocky as the trail ascends, and it involves some scrambling and balancing, adding to its adventure. The path is the steepest at Mundi Top and rockier toward the end. But the Panorama views of lush valleys and distant mountain ranges are worth the 4.2-kilometre roundtrip hike.

Manpada Waterfall Trail

This waterfall trail is in the hilly region of Thane. Its lush green surroundings, scenic views, and beautiful waterfall mark the trail's end. It is a moderately difficult hike that everyone can enjoy. On the way, one can enjoy the natural surroundings and Manpada Bird Watching Spot. Take a hike along this 1.6-km out-and-back trail in Thane. The average time to complete the route is 35 minutes.

Mama Bhanja Trail

A well-known hiking trek near Thane in Sanjay Gandhi National Park is Mama Bhanja Hills, named after two hills, Mama and Bhanja. This 2.9km trail leads uphill towards the Kanheri caves starting at the park entrance. In addition to the trek's scenic splendor, a beautiful stream enchants trekkers. At Mama Bhanja Hills, one can enjoy a panoramic view of the national park. Mama Bhanja hills are most picturesque and vibrant during the monsoon season (June-September).
Get a Home in the Lap of Nature in Thane
Going out on treks and hikes every week can be a luxury that many cannot afford, and it can only be possible if someone starts living in a place that offers such outdoor activities. For people living bustling city lives, enjoying nature's greenery and serenity is no short of a luxury, and having a residence overlooking the vast Yeoor hills can be the epitome of it. Piramal Vaikunth is one such property in Thane that offers luxury living in exquisite homes. It features beautifully designed residences and the highest living standards with stunning views of Yeoor hills, the Kalsubai trek, and the cityscape.
Disclaimer- This article is based on the information publicly available for general use as well as reference links mentioned herein. We do not claim any responsibility regarding the genuineness of the same. The information provided herein does not, and is not intended to, constitute legal advice; instead, it is for general informational purposes only. We expressly disclaim /disown any liability, which may arise due to any decision taken by any person/s basis the article hereof. Readers should obtain separate advice with respect to any particular information provided herein.
Sources :