Why You Should Invest in Piramal Vaikunth

22 October, 2021

8 mins read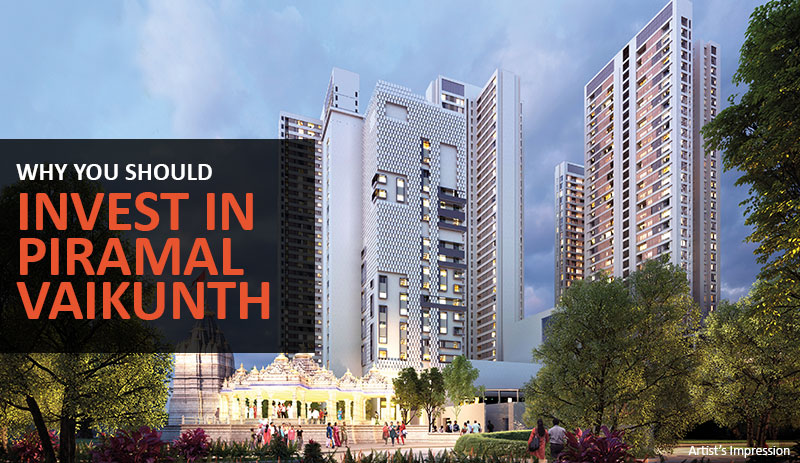 It is no secret that investment in real estate is a way to earn substantial returns over the long term. However, one must carefully select the location for the said investment. Over the past decade, Thane has emerged as one of the preferred residential areas on the real estate map of the Mumbai Metropolitan Region (MMR). Therefore, if you are looking to buy a property in the region, the vibrant and rapidly developing Thane could be a prudent choice.
Whilst looking for residential projects in Thane, you must choose one that is likely to fetch high return on your investment whilst also offering you a premium residential space. With its strategic location overlooking the picturesque Yeoor Hills and the mesmerising Thane Creek, the thoughtfully designed Piramal Vaikunth is one of the best luxurious residential projects in Thane.
Here's a look at the top reasons why you should invest in Piramal Vaikunth.
A home close to nature
Spread across ~32-acres, Piramal Vaikunth is a premium real estate development in the city of Thane, offering 2, 2.5, and 3 BHK apartments. The project is home to trees that are more than a century old and stand as guardians to the residents by providing them ample shade.
With its lush green surroundings, Piramal Vaikunth offers you a home away from the pollution and noise of the city without compromising on connectivity. What is more, is that you can have access to mesmerizing views of the Thane Creek and the verdant Yeoor Hills.
An Address for the Present and the Future
Thane is now counted amongst the fastest-growing real estate markets in Maharashtra. With the availability of abundant green and clean spaces, the region has been gaining prominence as a preferred residential area in the MMR. The properties in the city are relatively more affordable as compared to those in Mumbai, thereby attracting an increasing number of prospective house buyers.
With the development of infrastructural projects such as the Mumbai Metro Lines 4A and 5, the Thane-Borivali Underground Tunnel, and the extension of the Mumbai Coastal Road to Ghodbunder Road, properties in Thane are expected to witness drastic price appreciation in the future, making such investment a profitable one.
Interiors with a character
This RERA-approved housing project has been designed to provide the residents with a luxurious lifestyle. With the premium homes featuring floor to ceiling windows and ample provisions for ventilation and fresh light to seep in, you can be assured of a comfortable living space with breathtaking views.
Amenities Galore
Piramal Vaikunth features close to 40 per cent open spaces and up to 60,000 square feet of open space for state-of-the-art amenities and facilities. These include ones that can be used for community programmes and gatherings, as well as ones that ensure the privacy of residents.
Some of the amenities at Piramal Vaikunth are a squash court, mini cricket ground, jogging route, cycling track, gymnasium, indoor games room, library, swimming pool, and kid's pool. Furthermore, you can have a peaceful time at the yoga and meditation terrace. Other amenities include a play area for toddlers, an amphitheatre, and a library.
Eminent Partnerships
Piramal Vaikunth is a masterpiece created by world-class designers, craftsmen, and artisans and should be your preferred option if you are looking for a flat in Thane. The project's team of global partners includes HOK Chicago as the master planners, Lerch Bates for Vertical Transportation and Buro Happold as the MEP Consultants
HOK Chicago were the brilliant brains behind world-renowned projects such as the Kentucky International Convention Centre and the LaGuardia Airport New Terminal B. Lerch Bates has impressive projects like Baku Flame Towers, Azerbaijan, 1345 Avenues of The Americas in New York, USA in its portfolio. Buro Happold have proudly delivered the London 2012 Olympic Stadium, Louvre Abu Dhabi in UAE. After such an impressive legacy, these world-class collaborators have joined hands to present Piramal Vaikunth is their latest masterpiece
An Address You Can Treasure
Piramal Realty is, undoubtedly, a respected brand name in the real estate industry. With projects in development in various parts of Mumbai, ranging from South Mumbai to Thane, Piramal Realty is fast leaving its mark on the real estate market in the Mumbai Metropolitan Region. Piramal Vaikunth, one of their first residential developments in Mumbai, comprises modern and comfortable residential spaces.
By buying a home in Piramal Vaikunth, you will be investing in a luxurious and comfortable abode that can enable you to have some respite from the hustle and bustle of the city. With easy connectivity to the commercial hubs of Thane, this design marvel is ideal as your new address.
To sum it up
Piramal Vaikunth is a premium residential project in Thane with state-of-the-art amenities and well-designed apartments. The project is well-connected to various shopping centres, cultural hubs, industrial centres, cinemas, etc., in the neighbourhood. Overlooking the scenic Yeeor Hills, Piramal Vaikunth can offer you a home that is optimal for a holistic lifestyle. Take an e-tour of this design marvel now and book your dream home with us.